Yes, Michelle! I Want Unlimited

Mindset Laser Coaching With You
For a Full Six Months!
Right Now, Only One Payment of $597
If on our first call, either of us feels like Laser Coaching is not perfect for you,
your money will be refunded immediately. No risk!

I Understand That...
This coaching offer is for live online one-to-one coaching with Michelle. We meet by video or phone and agree on the homework to move me forward.

I can schedule as many 15-minute laser coaching sessions as I wish over the six months, but I must complete my "homework" before scheduling my next session. I can also reach out via email if I need help with my homework or have another call if I need new homework.

If during our first session (which is 30 minutes) either of us feels this is not a fit, my money will be returned, and the coaching terminated. No risk!

Special Introductory Price
Right Now, Only One Payment of $597
Motivex, Inc. Presents Michelle Volz's

MINDSET LASER COACHING
6-Month Program

A Coaching Program to Help You
Elevate YOURSELF and Your BUSINESS
with a Coach who will not let you slip into...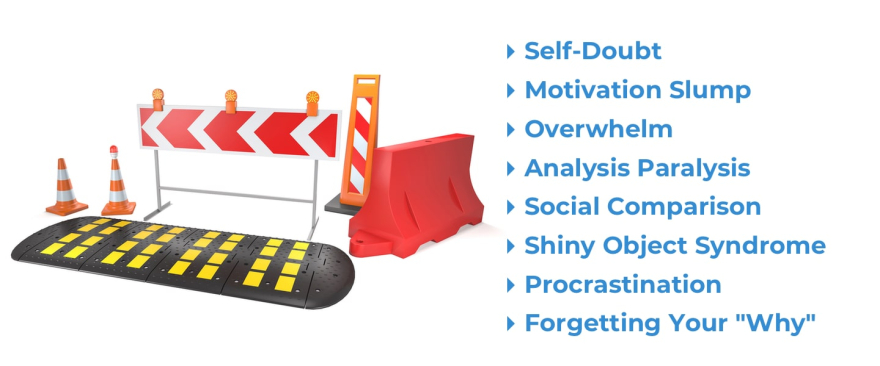 or any other speed bump on the path to reaching your goals!
Mindset Laser Coaching Helps You
Overcome Personal Obstacles and Stuck-Points

to Reach Your Goals and Get Things Done!

for Business Owners, Creatives, and Entrepreneurs

You've got important goals.
You want a high-quality life.
You've got things to do
and you can't afford to get off track by losing your mental edge!

Self-doubt, low energy, dips in motivation, feeling overwhelmed, imposter syndrome, and limiting beliefs that you didn't even realize were operating in the background can hold you back and block your progress.

But you can overcome these barriers to success and build the life you want for yourself!
Working with a Mindset Coach is one of the best ways to make that happen.




Get the mindset boost you need!
Keep your momentum going!
You're not alone when you have a Laser Coach.

Laser Coaching is Time-Efficient and Affordable!

Unlimited Coaching
15-Minute Sessions
Determine Your Own "Homework"
Schedule Sessions When You're Ready
One-Time Payment of $597

Six-Month Program
Right Now, Only One Payment of $597
If on our first call, either of us feels like Laser Coaching is not perfect for you,
your money will be refunded immediately. No risk!



WHAT'S SO "DIFFERENT" ABOUT LASER COACHING?
Laser Coaching sessions are brief. Traditional coaching sessions are usually about 45 minutes, sometimes up to 90 minutes. Laser Coaching sessions are 15 minutes, the perfect amount of time to check in, focus on your goals, get a mindset boost, and get on with your day.
You decide what you need to focus on. At the end of each session, we set up your "homework." Then when your homework is complete, you set up your next Laser Coaching session on my calendar. Your Coach is right there to help you focus on your goals, your growth, and your success so you are not alone.
Get in, get support, get on with your day!
THE POWER OF MINDSET COACHING
I'm a big fan of taking responsibility for your own life and bouncing back from adversity when times are tough.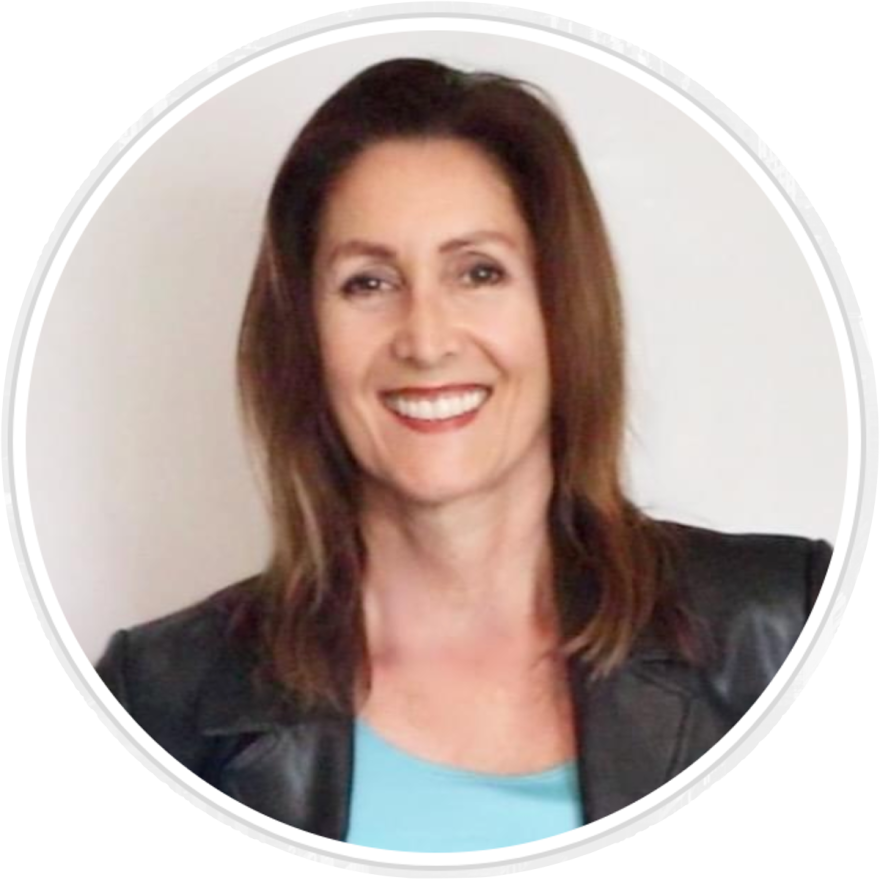 I also know how challenging it is to stay on track with a positive momentum when life's "stuff" gets in the way. You can work hard to have a positive mindset, to practice healthy habits, and to put time, focus, and energy into your goals each day. But you're only human...
Thankfully, you don't have to go at it alone! To maintain a strong and positive mindset, you don't have to take the DIY route if you don't want to. You can have a Coach on your team who will mentally and emotionally invest in you and your goals.
I designed Mindset Laser Coaching based on what I badly needed a while back - when I was struggling with my own mental blocks and "motivation slumps." I really needed a thought partner who could truly see me and help me reframe the mental barriers that were holding me back.
And now, I want to see you succeed, and more importantly, I want to see you overcome the hidden barriers that are holding you back from having all the success you want. Get past your inner blocks and step into the life you've always envisioned for yourself!

Mindset Laser Coaching will help me:
step into my identity as a person who succeeds
bounce back more quickly from disappointment or "bad days"
discover my blind spots and upper-limit barriers so I can release them
erase hidden beliefs that are operating in the background
remember my "Why" to keep me going and not give up
tone down self-judgment or critical self-talk
stop comparing myself to others

find patience with my growth process
help me stay motivated and energized
hold me accountable to the goals I say I want for myself
stay on track with healthy habits that keep me feeling strong and well
boldly move forward, even when I have self-doubts
overcome "advanced stuckness" ("I know all the things, and I'm still stuck...")
Mindset Laser Coaching is the perfect infusion of motivation and confidence.
Success is yours, and it's time to claim it!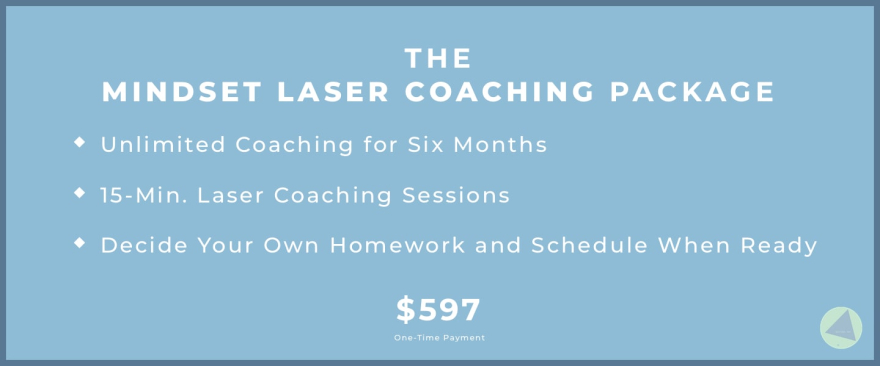 GOT QUESTIONS?
HOW DO YOU KNOW WHEN MINDSET LASER COACHING IS WORKING...?
You feel calm (yet excited) about your goals, not anxious.

You have the motivation to keep going with your goals. You're into it. Still.

You believe in yourself rather than doubt whether or not you can do it, and that gives you confidence.

You feel organized, not overwhelmed. You know where you're going and what you're doing.

You have patience because you understand it takes time to build the success you want.

You uncovered and released mental blocks that were holding you back, so you feel lighter and stronger.

You have the mental bandwidth to keep learning new things and your skillset is growing.

You trust the process of learning and growing and building, and that gives you peace of mind.

You feel yourself getting closer to your goals. You see that you're closer now than you were before!
Watch a few short samples of my MINDSET videos.
GOT QUESTIONS?
REGISTRATION
Getting started is easy!

Just three simple steps:
1. Make a one-time payment.
2. Schedule your first appointment.
3. Complete the Intake Form.

1. MAKE A PAYMENT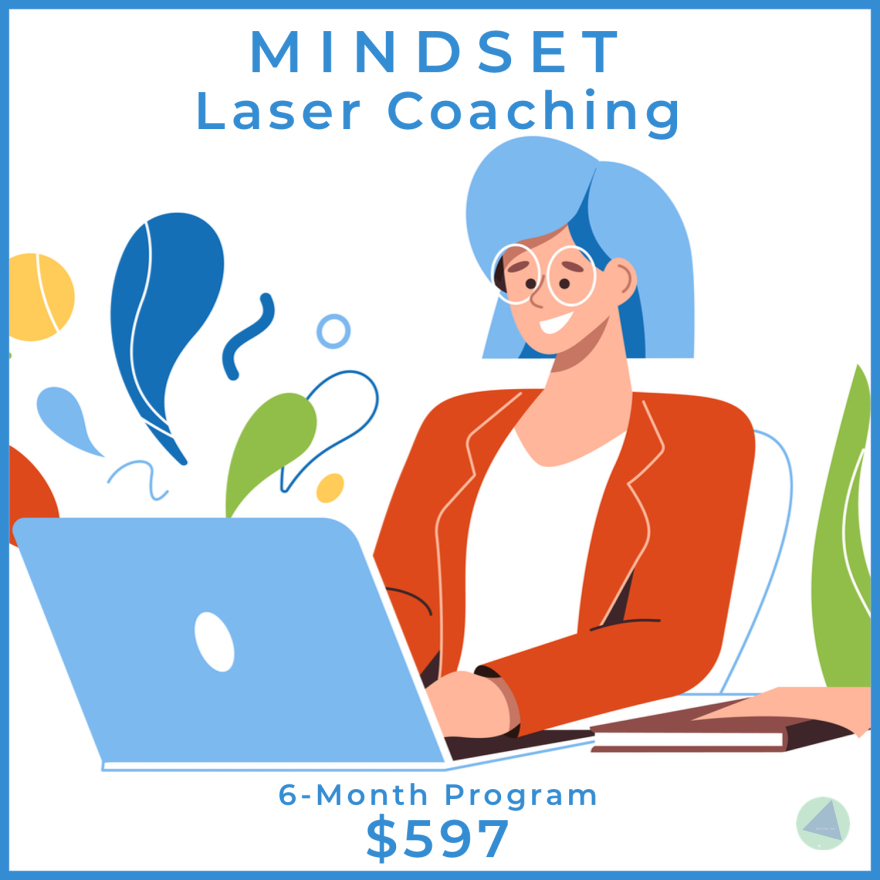 Click the square above to register.

2. SCHEDULE YOUR SESSION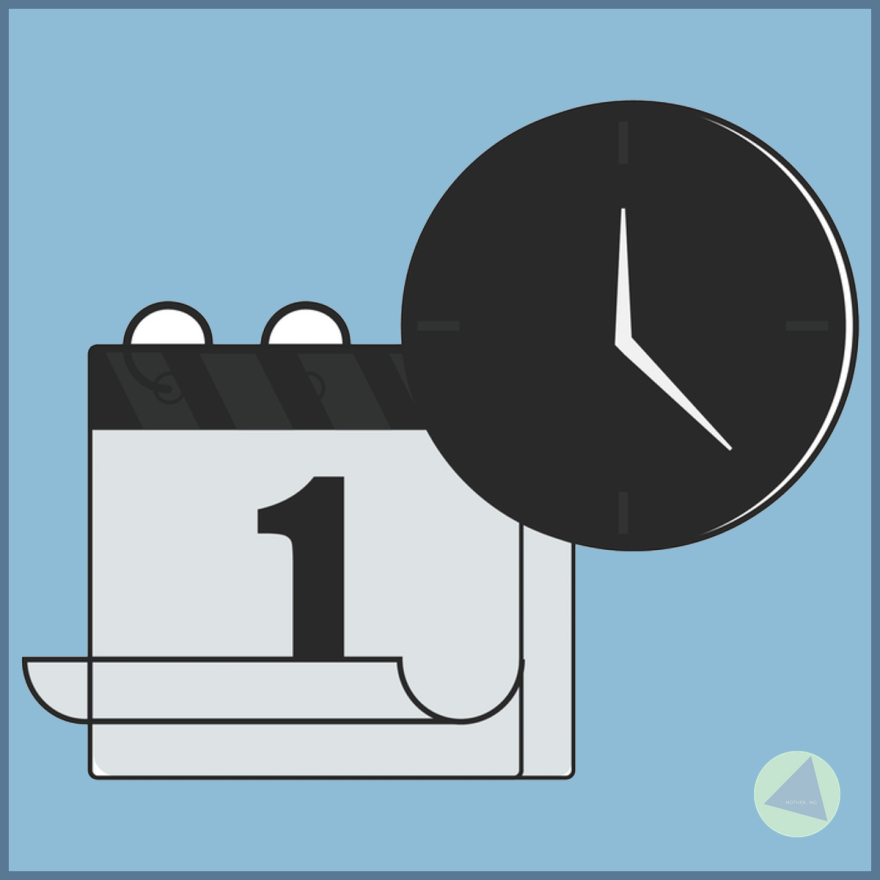 Click the square to access my calendar.

3. COMPLETE THE INTAKE FORM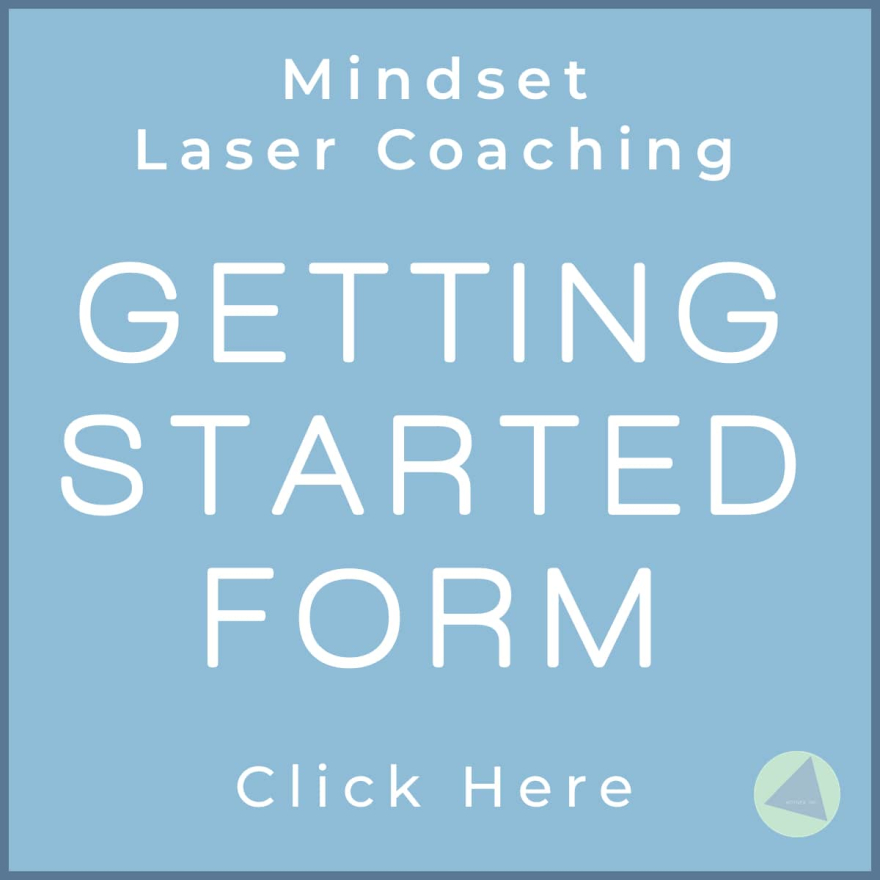 Click the square to fill out the form.


MONEY BACK GUARANTEE
Our first session is a 30-minute Zoom call for us to get acquainted and discuss your goals for this program. If during our first 30-minute call, either of us feels like this coaching is not exactly what you need, I'll refund your money right away.

FREQUENTLY ASKED QUESTIONS

QUESTION: How long is this coaching program?
ANSWER: The duration of the Mindset Laser Coaching program is six months of unlimited 15-minute Zoom calls. (The first call is 30 minutes for us to get acquainted and discuss your goals).

QUESTION: Do we meet on Zoom for all our sessions?
ANSWER: Yes, we meet on Zoom for all the sessions. Login information is always provided in the two reminder emails that come one day and also one hour before our session.

QUESTION: How do these 15-minute coaching calls work?
ANSWER: Think of the 15-minute calls as check-in sessions. A lot of the progress you make is between the calls. The 15-minute calls are used to check in with you, talk about your homework, discuss questions or obstacles you may be facing along the way, brainstorm ideas for overcoming obstacles, and assign new homework to keep your momentum going toward what you want and need for yourself.


QUESTION: Is this coaching truly unlimited?
ANSWER: Yes, you can have a call with me on a weekday, do your homework that same day, and then hop on my calendar and schedule your next session. Truly unlimited coaching.

QUESTION: How can I best prepare for my 15-minute laser coaching sessions? I want to get the most out of my sessions as I can.
ANSWER: Completing your self-assigned "homework" is the primary way to prepare for your next session. Also, when you schedule your appointment, there is a box for adding a "description." Use that box to add notes about what you want to focus on in our upcoming session so we can get right to it.



QUESTION: How do I share my homework with you?
ANSWER: Your homework will most likely be discussed in our next session. If there's something we want to look at together, we can do a screen-share on Zoom.


QUESTION: Is the homework super hard?
ANSWER: Not at all. In fact, you and I both will agree on the homework. It's usually some baby steps to move you forward, but if you're feeling particularly proactive, you can ask for more. And if you get stuck on the homework, I'm just an email away.


QUESTION: After we get started, what if I realize this isn't what I need right now?
ANSWER: There's a money-back guarantee that says, "If during our first 30-minute call, either one of us feels like this is not exactly what you need to get the results you want, I'll refund your money."


QUESTION: The sessions are 15 minutes, yet when I book an appointment, it shows up on my calendar as a 30-minute time block. Why is that?
ANSWER: The reason it shows up on your calendar as a 30-minute time block is so that it's easier to read on your calendar. Sometimes, a 15-minute time block on a digital calendar can be a very small entry that's hard to see.


QUESTION: Can I schedule a session any time I want?
ANSWER: You may schedule your next session according to your coach's availability during your coach's normal hours of operation.

QUESTION: Is there a payment plan?
ANSWER: No, I've never had one for this program, and there likely will never be one. For U.S. residents, PayPal credit might be a good choice.


QUESTION: After trying this for a while, what if I discover that I need more traditional coaching with longer sessions where I can talk for a longer period of time?
ANSWER: Mindset Laser Coaching is a great program! But sometimes, you need more session time to sort through the various mental and emotional aspects that come up in your work and your life. For more in-depth sessions, traditional coaching may be the best option. CLICK HERE to see more about my Self-Check Mastery Coaching Program.


I came to Michelle for coaching to help me get past doubting myself and also to deal with stress caused by my business and my relationships. Michelle is incredibly insightful. She shines a flashlight into unexplored areas and does so gracefully. She is by far the best coach I have had.
~ Frank M.


I was bouncing around from one thing to another… trying to turn my side hustle into my full-time income. I'd go all in, then something would happen where I'd get sidetracked and I'd lose steam. Michelle helped me see how I was letting distractions sabotage me. Who knew I had so many secret barriers inside of my own head… Thanks, Michelle, for getting me back on track! I'm feeling good and very focused.
~ Renee B.


I've always had a dream to start my own business selling the jewelry I design. My stuff is unique and people seem to like it. But I kept getting pulled into so many other directions from the people in my life. I knew I was putting all their needs ahead of my own but I didn't know how to break out of that pattern. Coaching with Michelle gave me the strength and the confidence to prioritize what I want in my life. (I didn't realize how much resentment was building up around all that…) The new me is going for it!
~ Cynthia R.


I see myself as a successful person, but I get tripped up second-guessing myself when things don't take off as quickly as I'd like them to. I've always put a lot of pressure on myself. Michelle's coaching made me see where that pressure was coming from. I was able to make some pretty significant mental shifts in the way I think. A major load has been lifted off my shoulders.
~ Karl S.
FOR CURRENT CLIENTS >>> Click Here to Schedule Your Next Coaching Session (Zoom Call) <<<